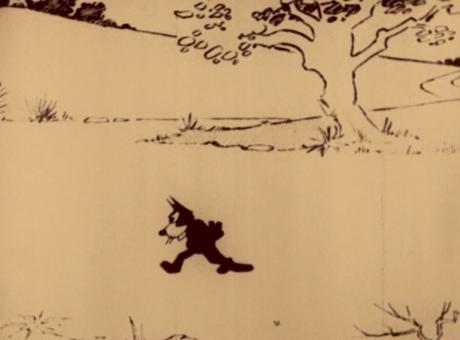 Sullivan/M.J. Winkler, 1922. Producer: Pat Sullivan. Direction/animation: Otto Messmer.
 
            In an earlier installment of this column I've written of the remarkable efforts of Tommy José Stathes to preserve and chronicle the history of the silent animated cartoon. Working on his own initiative (with the help of a small group of talented colleagues), Tommy has rescued a number of key early animated films from oblivion and restored their picture quality to something more nearly approaching their original beauty—and, not stopping there, has taken active steps to share those treasures with viewers, presenting live screenings in the New York area and producing a series of DVD/Blu-Ray packages. For those who haven't been keeping track, it's a pleasure to report that Tommy has continued his invaluable efforts since that first column was posted. One of his more notable recent productions is a package of the early films of Felix the Cat, and it's pure pleasure from beginning to end.
            Until the arrival of Mickey Mouse in 1928–29, Felix the Cat was unquestionably the most popular animated-cartoon star in the world. Making his screen debut in 1919, he quickly rose to international fame and developed a loyal following among movie fans. The Felix series was initiated and nominally produced by Pat Sullivan, but today's animation enthusiast knows that Sullivan then moved into a strictly-management position at his studio, taking full credit for Felix's adventures but having little or nothing to do with the making of them. It was animator Otto Messmer, uncredited at the time but today lionized by legions of admirers, who undertook the actual production of the films and injected his own unique brilliance into them. Messmer's output was staggeringly prolific: between 1921 and 1930, working with only a small staff of assistants, he turned out well over 150 one-reel shorts featuring the quirky black cat.
            The new Stathes disc offers a mouth-watering sample from the earliest years in that success story. The program includes a dozen of Felix's early films: the 1919 Feline Follies—generally acknowledged as the official debut of the character—and a selection of other titles from 1922–23. Some of these gems have never before been available to the home viewer, and all are presented here with superior image quality (not to mention new piano scores by Charlie Judkins). We also get a generous serving of historical bonus extras. It's not easy to pick out just one of these films for special attention, but I've selected one of the new discoveries as the subject of this column.
            Felix Fifty-Fifty opens with two parallel scenes. Felix, blamed for the malfunction of his owner's car, is unceremoniously tossed out on his own; meanwhile, a hobo "riding the rails" in a railroad boxcar is discovered by a railroad cop and booted off the train. The two social outcasts land on the ground side by side, whereupon the hobo announces brightly (in a dialogue balloon): "Fate must have thrown us together, so let's be pals!" Felix agrees, and the two make a pact to share their fortunes fifty-fifty. The whole passage, lasting scarcely a minute on the screen, radiates the charming simplicity of the Felix cartoons. But is the story really so simple? As the reel continues, Felix comes to realize that this "fifty-fifty" arrangement is in fact weighted heavily in the hobo's favor. The gags of inequality become increasingly blatant, and Felix's resentment grows apace. At length he parts company with his demanding acquaintance—but, in the end, enjoys a revenge that is both satisfying and cleverly apt.
            At its best, animation is primarily a visual medium, and some of the great animators have made their mark by way of bravura visual set-pieces. It's worth noting that Messmer, in these early Felixes, takes the opposite tack: his scenes and actions are simple, bare, minimalist. As the 1920s continued and his style evolved, he would venture into more elaborate visual exercises, but early in the decade his scenes were plain and utilitarian, their humor derived from droll comic situations. There's nothing wrong with that; on the contrary, in this and other cartoons, Messmer takes what was probably a practical necessity (given the pressure of his production schedule) and makes of it a strong, appealing signature style. The direct simplicity of the early Felixes is delightful, undoubtedly one of the qualities that drew audiences to the character in the first place.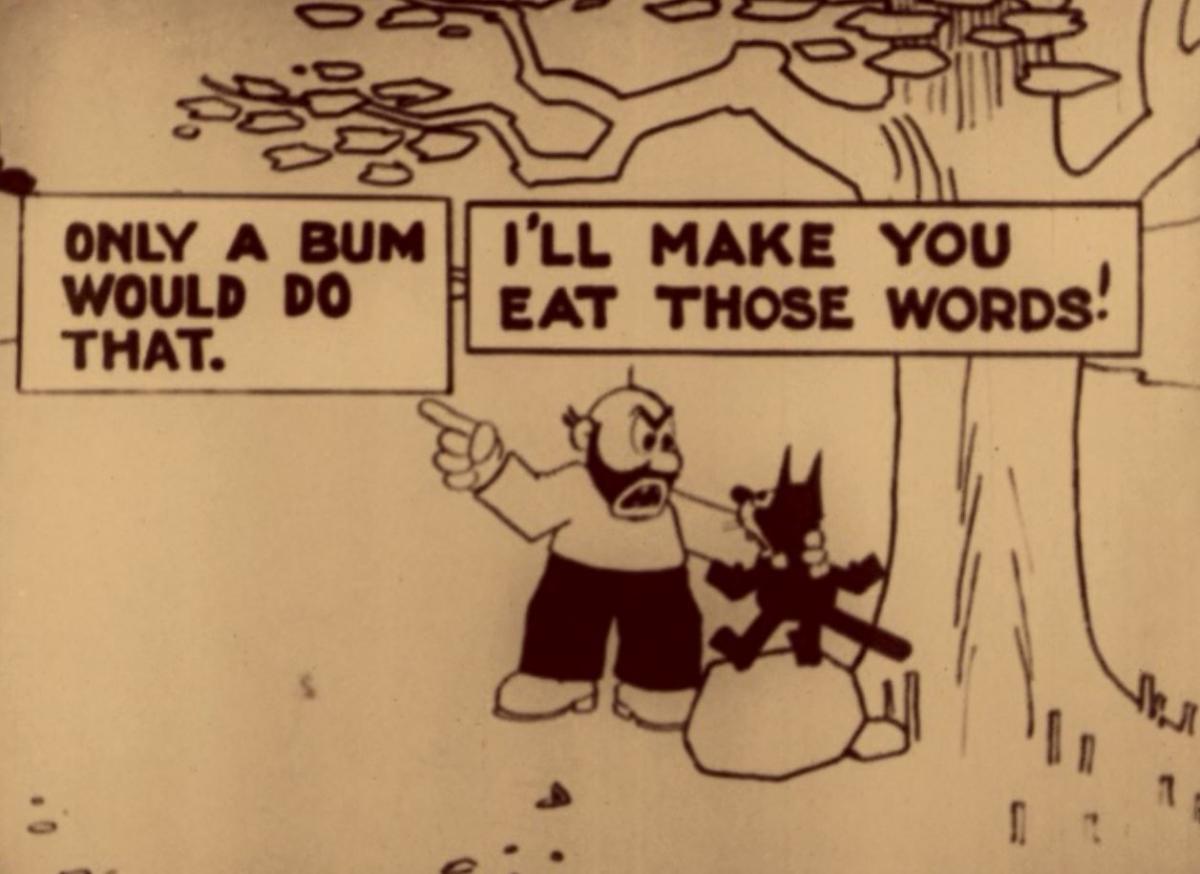 In this film Felix, searching (as he thinks) for a meal for both himself and his friend, enters a setting in which a watering can is sitting in the foreground. We just know that watering can is going to figure in the subsequent gag, or it wouldn't be there—and, sure enough, Felix finds a clever use for it. Elsewhere, Messmer makes ingenious use of the conventions of his medium. Felix, arguing with the hobo, insults him; the hobo announces: "I'll make you eat those words"—and then, seizing Felix's dialogue balloon, proceeds to do just that.
            Too, if Messmer's graphic style is simple, it's none the less eloquent. If we look closely at Felix Fifty-Fifty and savor its details—a consideration that I believe any good film deserves—we can appreciate the subtlety that Messmer brings to Felix's performance here. Felix enters into his partnership with the hobo cheerfully, in good faith, and only gradually realizes how egregiously the other is taking advantage of him. At first he betrays only flashes of annoyance, then increasing irritation, and finally a full-fledged gnawing resentment. And in the closing scenes, when he has turned the tables on his erstwhile companion, he revels in his revenge with unbridled glee. Simplicity notwithstanding, Messmer gives us a nuanced performance, in this film among so many others.
            In a perfect world, we might wish that time would bring us a massive Blu-Ray library of all the silent Felixes, or at least a broad majority of that voluminous output. In the meantime, we can be thankful to Tommy José Stathes and his associates for this stylishly produced appetizer. Today, a full century after his screen debut, Felix keeps on walking.