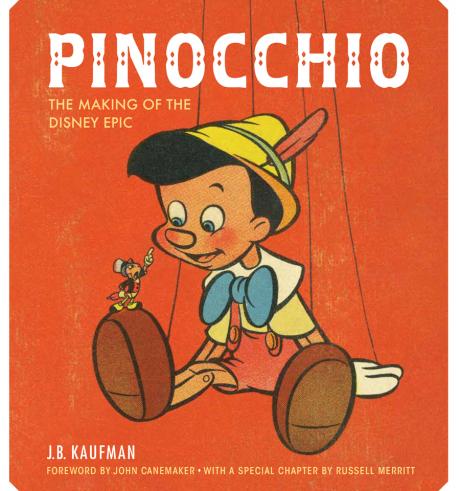 Walt Disney's second feature-length animated film was nothing less than epic in its vision and in the magnitude of its technical achievement. This volume recounts the full fascinating history of the making of the film, and is sumptuously illustrated with images that celebrate the lush visual magic of Pinocchio.
Based on years of archival research and interviews with the surviving filmmakers, this book traces the history of Pinocchio from the story's roots in 19th-century Italy, through the Disney studio's historic, painstaking efforts to produce the film, through the surprising events that followed the film's release to a wartime world. Rare production art and behind-the-scenes photos help to bring this intriguing story to life. Includes a special chapter by renowned scholar Russell Merritt and a foreword by award-winning filmmaker and historian John Canemaker. Special appendices detail the complete production credits for the film, and the later screen appearances of Figaro the kitten and Jiminy Cricket.
Chapters
One night, a long time ago …
Carlo Collodi's background and publication of his original story in Italy in 1881-1883; English translations and literary variations on the story, and early stage and film versions.
I've got no strings on me
In the late 1930s, Walt Disney is setting new standards in lush, beautiful animation technique and enjoying a new level of worldwide recognition, further fueled by the spectacular success of Snow White. Walt's decision in late 1937 to produce Pinocchio, and the early stages of story development.
Wait'll I fix this thing
After a burst of production activity, Walt calls a halt in spring 1938 and scraps much of the work done to date. Retooling of the story, with further revisions that continue well into 1939 as the story is continually refined and reshaped. Sequences that were planned and developed in some detail, then abandoned.
Cricket's the name, Jiminy Cricket
Character development and design, including the contributions of the newly formed Character Model Department. The characters in the story come into focus and become vivid, distinct individuals, thanks to the artists and the outside voice talents who bring them to life.
Pretty as a picture
From character design to pictorial design: Albert Hurter, Gustaf Tenggren, and other celebrated concept artists of the Disney studio craft the lush visual style of Pinocchio, with an accent on Old World atmosphere. This chapter is liberally illustrated with their paintings and drawings, some of them striking works of art in their own right.
Turn on the old music box
An introduction to composer Leigh Harline and his creation of the film's complex, sophisticated musical score. Details on the film's beloved familiar songs, as well as several that were developed, recorded (in some cases), then cut from the film—and still others that were never intended to be heard in the film, but only in its promotional campaign.
What they can't do these days!
Pinocchio maintains the Disney studio's high standard of character animation, and adds a spectacularly lavish complement of effects animation. This chapter explores the groundbreaking visual effects devised for the film, with details and illustrations of elaborate new camera techniques.
The one and only Pinocchio
The finished film that emerges in February 1940 is a masterpiece of the craft, unlike any other film before or since. This chapter offers a comprehensive account of the film, sequence by sequence, with details and sidelights on individual story ideas, techniques, and revisions.
On to the theatre!
The Disney studio exerts an heroic mass effort to finish the film by the deadline. Pinocchio enjoys lavish New York and Hollywood openings in February 1940, is showered with ecstatic reviews and awards—and meets a surprisingly tepid box-office response. Subsequent distribution of the film in America and the world, much of which has already been plunged into war.
This is practically where I came in
Over succeeding decades, Pinocchio not only finds its audience but achieves a greater degree of success, establishing an enduring place in film history. Reissues of the film, and reappearances of Figaro and, especially, Jiminy Cricket in later Disney films and TV shows. The historic and artistic legacy of Pinocchio.
Special chapter:
Disney's Byzantine lumber number
by Russell Merritt
One of the world's leading film scholars, Russell Merritt, offers his own profound insights on Pinocchio and its place in popular culture. Drawing parallels with the worlds of literature, theatre, graphic design, and more, Merritt's essay presents an original, thought-provoking, and greatly expanded perspective on the film.
Appendix A: Production credits
Appendix B: Musical credits
Appendix C: The further adventures of Figaro
Appendix D: The further adventures of Jiminy Cricket
Reviews
Jerry Beck, Cartoon Research:
            With the writings of John Canemaker, Michael Barrier and J.B. Kaufman leading the pack, we are living through a golden age in the documenting of Disney history. J.B. Kaufman's latest book on the making of Pinocchio is masterful—and a must-have.
            It's of a piece with his Snow White tome, The Fairest One of All—a highly readable, entertaining, visually dazzling and thoroughly informative documentation of the making of arguably Disney's most sophisticated animated feature.
            You want detail? We got detail! It's all here—from pre-production to final release, and then some: beginning even earlier with the origins of Collodi's tale and winding up years beyond initial release, discussing spin-off shorts and merchandising, the career of Jiminy Cricket on TV and in comics, and much more—all bases covered with footnotes, appendices that cover sequence by sequence, who animated what and why—and an in-depth filmography of subsequent shorts starring Figaro, Cleo and Jiminy.
            In the main text J.B. takes us through the feature, through each scene, explaining how the film took its ultimate shape. Have a copy of the movie handy to re-watch as you read—his writing will have you appreciating Pinocchio as you never have before.
            PINOCCHIO: The Making of the Disney Epic is one of the best books of this year or any—and a vital addition to your library.
Leonard Maltin, Leonard Maltin's Movie Crazy:
As he did with Snow White and the Seven Dwarfs, animation historian J.B. Kaufman has delivered an exhaustive—yet highly readable—chronicle of a milestone in Walt Disney's career, packaged in a handsome hardcover filled with rare artwork and photos. Kaufman fills us in on Pinocchio's origins, in Carlo Collodi's book, and the challenge Disney and his team faced in simplifying its episodic story. The book covers every aspect of the burgeoning feature and Walt's ambitions for it, especially after the rousing success of Snow White. With full access to the Disney archives and years of interviews with its animators, he paints a vivid picture of how the feature came to life, despite a good many bumps in the road. No aspect of the film is overlooked, from the use of sound and contributions of voice actors to the licensing and merchandising campaign that accompanied its release. A valuable appendix reveals which artists contributed to each key sequence. Two words best describe this volume: essential and definitive.
Morgan Stradling, Rotoscopers: