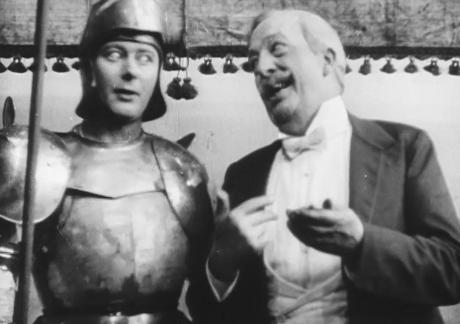 Edison, 1912. Director: Oscar Apfel. Scenario based on a story by O. Henry. Cast: Robert Brower, Mary Fuller, Harold Shaw, William Wadsworth.
 
            One of the most fascinating chapters in early cinema, I think, was the period we might call "the Biograph years"—that is, roughly the years between 1908 and 1913, when D.W. Griffith, as the top director at the Biograph studio, was singlehandedly revolutionizing the art of film. Not only did Griffith himself produce hundreds of remarkable short films during those years, but those films were so successful that virtually every other American producer attempted to follow his lead. The result was a flood of films tailored to the Biograph model—vest-pocket dramas, showcasing refinements of acting and cinematic technique, usually on an intimate scale and usually confined to a single reel—until the mid-1910s, when the "early" period was phased out and feature-length films became the norm.
            The Edison company produced its share of these quasi-Biographs, and a generous sampling of them appears in Kino's wonderful multi-disc Edison DVD set, happily still in print. I've written about one of these films in an earlier installment of this column, but this month I'm singling out another personal favorite, a gentle little comedy titled Thirty Days at Hard Labor. Like other early films, this one is based on a story by O. Henry—in this case "The Halberdier of the Little Rheinschloss," published a scant five years earlier. It's not one of the author's better-known stories, but it features his signature witty premise.
            In Thirty Days at Hard Labor, the story is adapted to the screen with taste and sensitivity, retaining the general outline of the plot: a rich boy courts a rich girl, but her father, a self-made man, objects to her marrying a spoiled idler. He requires the boy to prove himself by earning his living for thirty days by the work of his hands. The boy soon finds that his tender hands are, indeed, no match for digging ditches or shoveling coal; but ultimately he finds a way to satisfy the letter of the law, bringing the story to a sweetly enjoyable conclusion.
            The director of Thirty Days, Oscar Apfel, was a prolific director during these years (he would famously co-direct The Squaw Man with DeMille in 1914), but today's film enthusiast is likely to remember him onscreen as an even more prolific character player in the sound era. Here, as a director, Apfel demonstrates his ability: the story is told with subtlety and charm, and the players deliver restrained performances. Cinematically, too, the film benefits from some effective lighting/photographic touches. One interesting effect appears in the early part of the film: the young lovers are seen on a balcony before a romantic setting, moonlight reflected on water. The moonlight and water are not the real thing, but a theatrical illusion conjured up by electric light and moving silhouettes—holdovers from the stage being a frequent device in films of this period.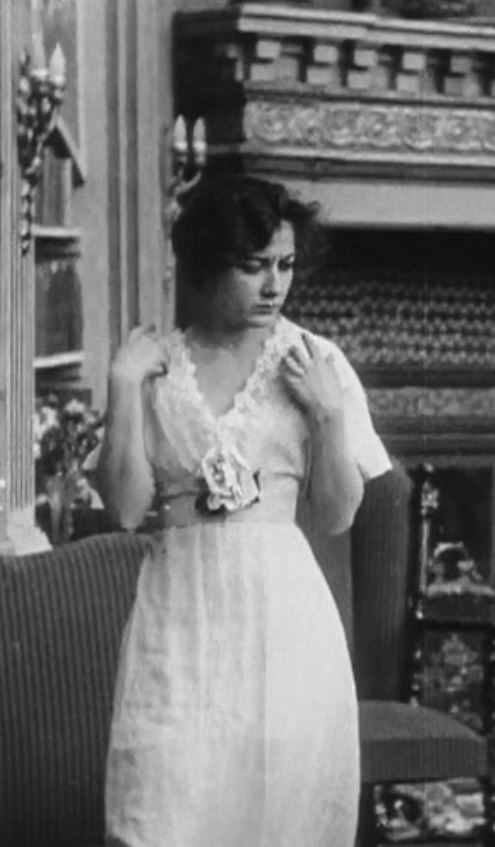 Much of the charm of Thirty Days comes from its cast. Like Biograph and most other American film companies during these years, Edison maintained a "stock company," actors who appeared week after week, in one single-reel picture after another, playing a wildly varied range of roles. Robert Brower, the company's resident curmudgeon, appears here as the girl's father, investing his early scenes with a no-nonsense toughness as he delivers his ultimatum—but magnanimous enough to roar with laughter at the end, when he realizes he's been tricked, and that his prospective son-in-law is resourceful after all. Mary Fuller and Harold Shaw, as the young couple, are quite likable; there's nothing judgmental in their characterization as rich kids. The real news in this film, in my opinion, is Mary Fuller as the daughter. Ms. Fuller was an enormously popular star during these years, and as we watch her in Thirty Days at Hard Labor, it's not difficult to see why. As the daughter—impulsive, spontaneous, just a bit spoiled herself—she's effortlessly convincing. She was also quite versatile, appearing not only in light comedies like this one, but also in a variety of melodramas, Westerns, and serials. (About a year after this film, in The Ambassador's Daughter—appearing not in the title role, but in a supporting part as a jaded, cynical foreign spy—she was equally effective.)
            All in all, Thirty Days at Hard Labor is recommended as a delightful souvenir from a key period in film history. It's no cinematic milestone, but it is a thoroughly enjoyable sample of the entertainment that audiences enjoyed in the years just before the advent of the feature film.