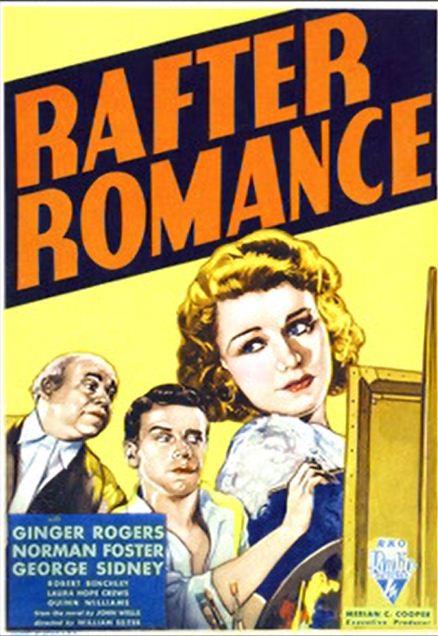 RKO Radio, 1933. Director: William Seiter. Screenplay: H.W. Hanemann and Sam Mintz, based on the novel by John Wells. Camera: David Abel. Film editor: James B. Morley. Cast: Ginger Rogers, Norman Foster, George Sidney, Robert Benchley, Laura Hope Crews, Guinn "Big Boy" Williams, Sidney Miller.
 
One of the happiest events of 2007 for film enthusiasts was the recovery of the six long-unavailable "RKO Lost and Found" films. Their story has been told elsewhere but, briefly, four of the films in question had been produced at RKO under the supervision of legendary producer Merian C. Cooper, who left the studio in 1934. The terms of Cooper's severance were not settled until 1946, a good twelve years after his departure, and included his purchase of all rights to four of the films produced during his tenure. Because two of those films were remade in, respectively, 1937 and 1938, the remakes were also included in the package. Exactly what Cooper planned to do with the films is not known, but his acquisition was followed by more complications which plunged the six films into a legal limbo in which they could not be shown. Apart from a brief flurry of local television exposure in the late 1950s, the six films effectively disappeared from view for more than half a century.
            For their rescue, we can thank TCM programming director Dennis Millay and Turner Broadcasting corporate legal manager Lee Tsiantis. Learning in 2006 of the peculiar legal status of these films, Millay and Tsiantis expended heroic efforts, first, to untangle the monumental legal snarl in which the films had been trapped for so many decades, and second, to track down and restore 35mm preservation elements for each title. The films were legally acquired by TCM and were unveiled in 2007, with special showings on the Turner channel and packaged in a special DVD collection.
            Most film enthusiasts will agree that they were worth the wait. Granted that none of the six films qualified as lost classics (Cooper had reportedly negotiated in 1946 for John Ford's The Lost Patrol, a film whose revival would have been a major rediscovery), each one still offered special riches and pleasures of its own. One of the most enjoyable is the delightful pre-screwball comedy Rafter Romance, featuring Ginger Rogers in an early starring role. Having broken into the movies in 1929, appeared in a series of shorts and program features, and earned attention with her appearances in the hit musicals 42nd Street and Gold Diggers of 1933, Ginger Rogers in 1933 was steadily working toward top stardom. Rafter Romance, a modestly budgeted program picture with no singing or dancing scenes, catches her just on the verge of that career breakthrough.
            The gist of the film is in its plot situation: Ginger and Norman Foster are two young people recently arrived in New York. They have never met, but both live in the same apartment building—a tenuous distinction, since both are in financial straits and behind on their rent. Their landlord, financially strapped himself, proposes that both of them can live in Foster's attic apartment—on an alternating basis. Foster, an aspiring painter who works a "day job" at night, can sleep in the apartment during the day; during the nighttime hours the apartment will be Ginger's. The landlord promises that they'll never have to meet, and is sure they'll both be happy with the arrangement. Of course both are extremely unhappy with the arrangement, but are forced to accept it. Their instant dislike of one another is evident when each starts leaving nasty notes for the other; these soon lead to increasingly spiteful practical jokes.
            Meanwhile, following the irresistible logic of the movies, Ginger and Foster meet on the street and begin a tentative romance. As hostilities escalate between the two unseen roommates, romance continues to blossom between the young lovers. (The plot is loosely similar to that of The Shop Around the Corner, which Ernst Lubitsch would bring to the screen in 1940.)
            This slender plot situation is given real charm and appeal by William A. Seiter, a reliable and versatile director who has always been oddly underappreciated. Produced during the summer of 1933, Rafter Romance is technically a pre-Code film, but without any of the salacious content that some viewers expect from such a film (although that widespread simplistic understanding of the pre-Code period is largely a misinterpretation anyway). The film's basic situation—two strangers innocently "cohabiting"—may have skirted the limits of 1933 good taste, but so harmlessly (especially since both parties protest the idea!) that no one could have taken offense. If any part of this film did tempt the censors' scissors, it might have been the occasional shots of partially-clothed Ginger walking around the apartment—but these, too, are handled with impeccable taste.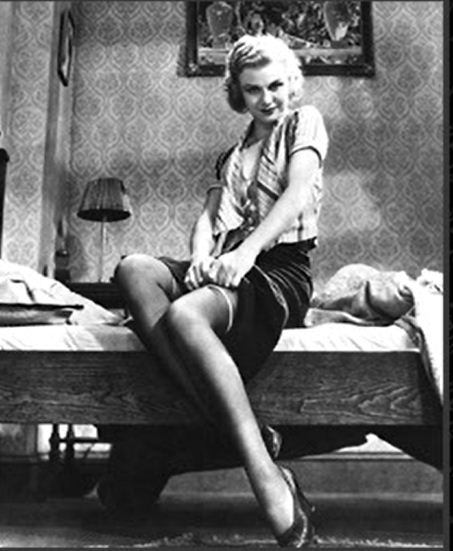 Some fans of the pre-Code period are fond of another trait of these pictures: their unpredictable excursions into ethnic humor, some of it politically incorrect in today's world. Rafter Romance's contribution is George Sidney, cast according to type as the Jewish landlord who sets the plot in motion. With his broad mannerisms and mangled English ("This ain't the Eckbaum Foundation for Indignant Females"), Sidney plays his specialty role to the hilt. But he's a thoroughly likable and sympathetic character, more a caring parent than a landlord, forever solicitous toward his young charges. (In one scene, doubly remarkable in light of 1933 world events, Sidney finds his own son drawing swavastikas in chalk on a passageway wall—for "good luck"—and angrily erases them with his sleeve!)
            And other beloved character players turn up, as well, in the supporting cast. Laura Hope Crews seems miscast as a perpetually tipsy would-be patron with designs on Foster, but Guinn "Big Boy" Williams lends his welcome presence as a rough but chivalrous cab driver. For many viewers, one highlight of the film is Robert Benchley's appearance in the cast. Benchley's initial venture into the movies had been almost a fluke, a side pursuit separate from his writing career; but he had quickly demonstrated a very real and very funny screen presence. By 1933 he had embarked on what would be a surprisingly long and prolific second career as a Hollywood character actor. As Ginger's lecherous boss in Rafter Romance he displays a hitherto unfamiliar persona, but still manages to work in some of the bumbling-professor business that had served him so well in The Treasurer's Report.
            With so many qualities going for it, and with the added benefit of that inexplicable warmth that Seiter seemed to inject into most of his films, Rafter Romance is a minor but thoroughly enjoyable little feature. For proof of its appeal we need look no further than the 1937 remake, Living on Love, which is also included in the "RKO Lost and Found" group. Telling the same story, featuring the likable James Dunn and Whitney Bourne in the leads, and with its own complement of beloved character players (Tom Kennedy, Franklin Pangborn) in the cast, Living on Love is a quite competently produced film—yet seems to have none of the effortless charm of its 1933 predecessor.