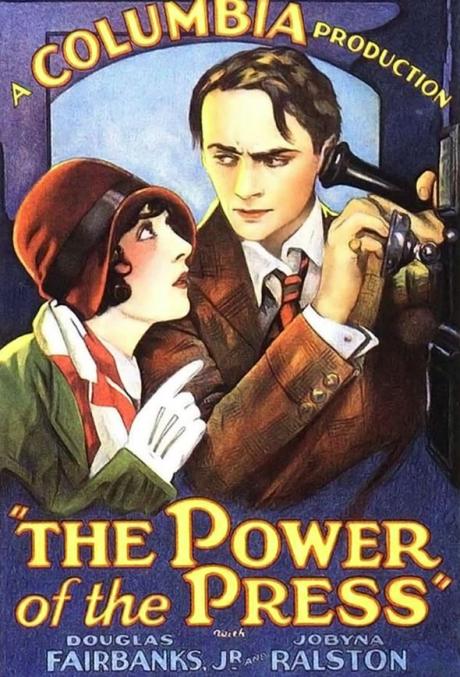 Columbia, 1928. Director: Frank Capra. Screenplay: Sonya Levien, based on a story by Frederick A. Thompson. Camera: Chet Lyons, Ted Tetzlaff. Film editor: Frank Atkinson. Cast: Douglas Fairbanks Jr., Jobyna Ralston, Mildred Harris, Philo McCullough, Wheeler Oakman, Robert Edeson, Edwards Davis, Dell Henderson.
 
            I don't know whether it fully qualifies as a "genre," but the newspaper film was a reliably entertaining subcategory of the movies throughout most of Hollywood's golden age. The milieu of bustling city rooms, giant presses churning out late editions, and reporters frantically racing to hammer out a big story before the deadline and scoop their competition, invariably produced an atmosphere of crackling excitement on the screen. Today, when the printed newspaper has itself become an endangered species, the newspaper film takes on an added measure of nostalgia. And, indeed, it's a category that accounts for such all-time classics as The Front Page, Five Star Final, Nothing Sacred, His Girl Friday, and (arguably) Citizen Kane—along with many other films that are all but forgotten today.
            One of the latter, undeservedly, is The Power of the Press, produced in 1928 by Columbia Pictures. This is one of those gems from the early directorial career of Frank Capra, scarcely a year after he became a contract director at Columbia. Still a good six years away from his breakout success, Capra directed a string of low-budget silent features in a variety of genres. Deprived of lavish production values and major stars, these films had little going for them but Capra's sparkling directorial style—but that was more than enough. Seen today, these early efforts generally prove to be so delightful that we can only wonder why Capra's genius did take so long to be widely recognized and celebrated.
            The Power of the Press is no exception. The star of the film is a young Douglas Fairbanks Jr.—an actor who would ultimately become a major star in his own right, but in 1928 was only just beginning to emerge from his father's prodigious shadow. Here he's a cub reporter on a prestigious metropolitan paper, yearning for his chance to report on a big story, but meanwhile stuck in a corner of the city room writing weather reports. He gets his break when the city's district attorney is murdered. The city editor is notified of the crime late in the evening, when Fairbanks happens to be the only reporter still present in the office, and has no choice but to send his junior staffer out to cover the story. Fairbanks is so excited and flustered that he forgets his directions to the crime scene, loses his press pass, and generally bungles the job. Moreover, he quickly discovers that the murder is not an isolated event, but that he has blundered into a dangerous web of organized crime and corrupt local politics. In the end, however—through a combination of nerve, accidents, good timing, and sheer dumb luck—he succeeds in not only reporting the story, but solving the crime.
            Capra brings this yarn to the screen at a lively pace, embellished with his characteristic touches of engaging comedy. Fairbanks' performance is a delight, perfectly capturing the young reporter's seething frustrated ambition, his reckless energy when a big story does come his way, and his youthful braggadocio when, almost by accident, he scores his first big success. His leading lady is Jobyna Ralston, a dark-haired beauty from Tennessee. Jobyna was well known to movie audiences at this time as Harold Lloyd's leading lady; she had appeared opposite Lloyd in six features over the course of four years. But after The Kid Brother (1927) she had left the Lloyd studio and pursued an independent career in a varied assortment of films for other studios, including the World War I aviation classic Wings. Here she's lovely and spirited as a bystander whom Fairbanks brashly implicates in the crime at first, but whom he later exonerates—and, incidentally, marries.
            Mention should also be made of Mildred Harris, former wife of Charlie Chaplin, who enjoyed a busy film career of her own during the 1920s.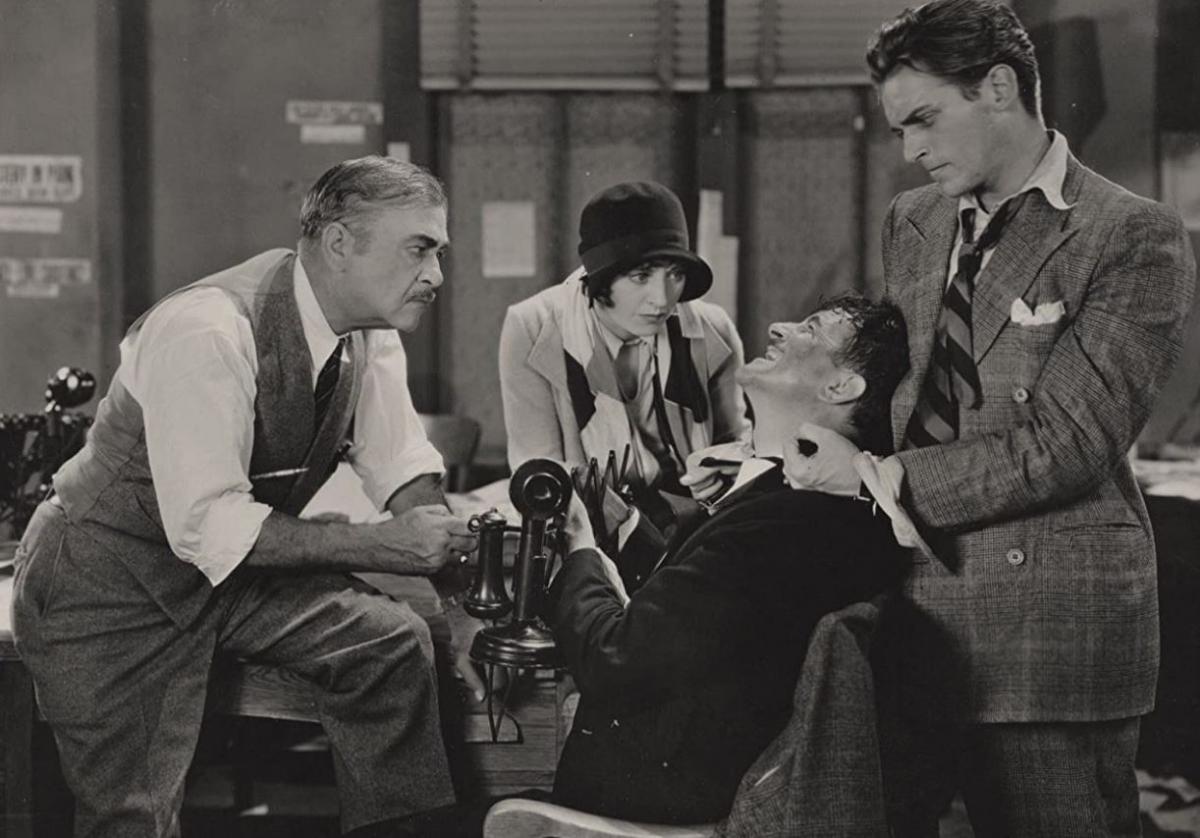 In The Power of the Press she's tart and slangy in the role of a gangster's moll. And apart from these principals, one of Capra's trademarks, a supporting cast of quirky, beloved character players, is already in evidence in 1928. Dell Henderson was a familiar presence in films, especially comedies, for several decades, and in this film he's an older, more experienced reporter who carries on a rivalry with Fairbanks. Some of the film's most enjoyable moments are the little sparring pantomime exchanges between Fairbanks and Henderson, apparently improvised on the set.
            Capra would revisit the newspaper world, of course, as a setting in some of his later and far better remembered films: It Happened One Night, Meet John Doe, and others. Some of his most memorable characters would be newspaper reporters, and their constant quest for sensational headlines would prove a useful device in telling his stories. The Power of the Press is delightful proof that Capra could center a story on the newspaper business itself, and produce a film as fresh, exciting, and entertaining as any of those later classics.
            Special thanks to Ben Urish for his help in preparing this column.