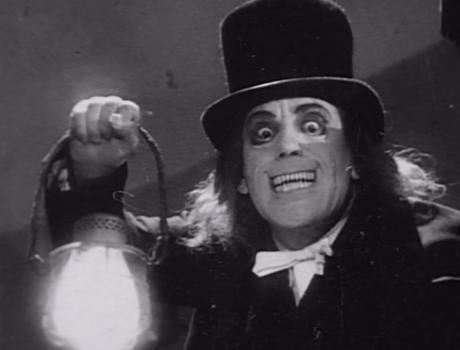 MGM, 1927. Director: Tod Browning. Scenario: Browning, titles by Joe Farnham. Camera: Merritt B. Gerstad. Film editor: Harry Reynolds. Cast: Lon Chaney, Marceline Day, Henry B. Walthall, Percy Williams, Conrad Nagel, Polly Moran.
 
            Last month a close friend of mine passed away, and I'm still feeling a keen sense of loss. My friend Bodie had many passions in life, and one that we both shared was his love of monster movies. Of course, many of his favorites were the well-known classics—but he was always ready to seek out the more obscure films too, and this column does lean toward the more obscure films. So this month, as a sort of tribute to my departed friend Bodie, I'm revisiting that most enigmatic of horror movies: the 1927 MGM silent London After Midnight.
            In a sense, this film is one of the well-known classics; it's one of the titles that are constantly on the minds of horror-film aficionados. At the same time, it does qualify as an obscure film, for a very good reason: it no longer exists. For several generations London After Midnight has been—and still is, at this writing—regarded as a lost film. Small wonder that hopeful enthusiasts still seek after it: produced by the powerhouse team of director Tod Browning and star Lon Chaney, in the midst of a run that included such macabre classics as The Unknown and West of Zanzibar; and represented by stills that show Chaney in one of his most horrific makeups, all piercing eyes (his eyes literally held wide open by small hidden frames) and gleaming vampire fangs. How could this film, this slice of hair-raising ghastliness, be anything other than a masterwork? From time to time, excited reports of a rediscovered print have been heard from around the globe—but, to date, all have turned out to be false alarms. Our closest approach to seeing the film is Rick Schmidlin's reconstruction, based on scene stills filmed in continuity. Schmidlin is to be commended for this effort, but the simulation of a motion picture by still images is never a substitute for the original.
            If and when the actual film does resurface, it may well prove to be a disappointment. The late William K. Everson, who had seen it when it was still extant, observed more than once that the excitement surrounding London After Midnight was dependent on its unavailability—that the film itself failed to deliver on the promise of those deliciously nightmarish stills. I won't dwell on the details here (although, admittedly, the idea of a "spoiler" about a lost film seems incongruous!). The story revolves around a murder investigation that takes a supernatural turn when the detective discovers increasing evidence of vampire involvement—by, not one, but a family of vampires. This was an original story by director Tod Browning, and his resolution of the plot may have been responsible for any disappointment on the part of audiences. We can perhaps gain a sense of the film's effectiveness by watching the sound remake, Mark of the Vampire, produced in 1935 and starring another horror-film legend, Bela Lugosi. Mark of the Vampire was likewise directed by Browning and was, according to Everson, an extremely close remake of the original.
            On the other hand, Mark of the Vampire has pleasures of its own for the horror-film devotee. It would be unrealistic to expect any less from London After Midnight, and the facts suggest that it did offer more than a few highlights.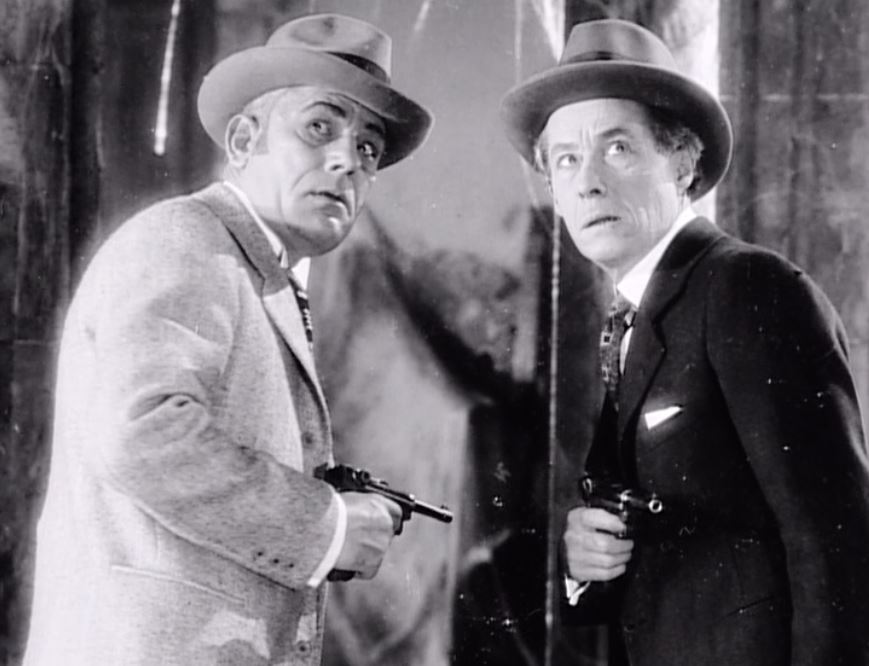 For the Lon Chaney fan, there's the rare prospect of a Chaney dual role: not only the terrifying vampire, but also the officious Scotland Yard inspector assigned to the case. The rest of the cast, too, was excellent and included Conrad Nagel and lovely Marceline Day as the young lovers, Sennett alumna Polly Moran for comic relief—and, in another key role as a family member, none other than Henry B. Walthall. Walthall's post-Griffith career was marked by a range of fascinating and colorful roles, and this appears to have been one of them. Too, the spooky atmosphere of the abandoned mansion would have benefited from the full resources of MGM's art and camera departments, which in the late 1920s were considerable.
            With so much going for it, there's reason to believe that this film would indeed offer on some level a rich cinematic experience for the classic film enthusiast, and the monster movie fan in particular. I hope so. I'd like to think, in some heavenly screening room, my friend Bodie is enjoying a pristine 35mm print of London After Midnight right now.