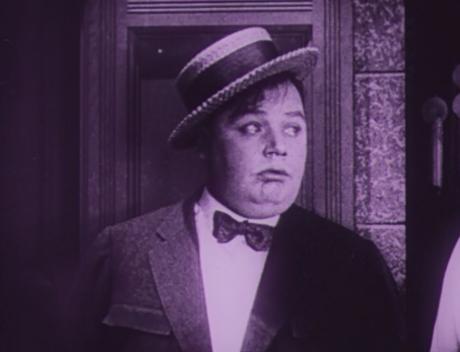 Paramount, 1921 (unreleased). Director: James Cruze. Scenario: Walter Woods, based on a story by Sarah Y. Mason. Camera: Karl Brown. Cast: Roscoe Arbuckle, Lucien Littlefield, Mary Thurman, John McKinnon, Clarence Geldart, Harriet Hammond, Allen Durnell, Gertrude Short, Winifred Greenwood, Maude Wayne.
 
            This is a leap year, and I can't resist the opportunity to highlight a film actually titled Leap Year—especially when the film is as delightful as this one, and most especially when it's being featured this month at the Kansas Silent Film Festival. Produced in 1921, Leap Year is a comedy starring rotund Roscoe "Fatty" Arbuckle—not one of the slapstick shorts for which he is probably best known, but one of his later Paramount features.
            That's an important distinction, for several reasons. Nearly all of the great comedians in Hollywood's golden age followed the same trajectory Arbuckle does here: starting in one- and two-reel comedies, establishing themselves as screen favorites, and then graduating to feature-length films. But the difference between shorts and features was more than a matter of running time. During the silent and early sound years, a legion of great comedians—from masters like Chaplin and Keaton to lesser-known performers who are scarcely remembered today—developed and refined a form of visual comedy that was uniquely suited to short films. The two-reel short was revealed as an ideal showcase in which to introduce a basic situation, develop a series of brilliant sight gags, and then wrap them up with a satisfying conclusion. It's no coincidence that a high proportion of the greatest comedy films of all time—from Chaplin's The Vagabond to Keaton's Cops to Laurel & Hardy's Towed in a Hole, and countless others in between—are two-reelers.
            Expanding that canvas to feature length created an altogether different dynamic. A feature film, said the prevailing wisdom of the 1910s, was no place for "low" comedy. In order to hold an audience's interest for the length of a feature, a film must be built around a plot, conforming to a more traditional (stage) model. And, indeed, story construction would prove to be a major challenge for the great sight-gag comedians as they made the switch to features. Roscoe Arbuckle was one of the first of these, and Paramount, his studio, solved the problem by casting him in a new and different type of vehicle. In place of the rough-and-tumble slapstick romps in which Arbuckle had made his name, at Keystone and elsewhere, Paramount cast him in polite drawing-room comedies. Now, instead of engaging in roughhouse physical gags and madcap chases, he essayed leading roles in Brewster's Millions and other light-comedy fare.
            Leap Year, the eighth of his Paramount features, fits the pattern—but by this time, as Steve Massa points out in his excellent new book on Arbuckle's career, the comedian was finding creative ways to adapt the form to his individual talents. The story is a classic light-comedy formula: to please his rich, irritable uncle and the woman he really loves, Arbuckle tries to avoid entanglements with other women—and is promptly pursued by not one, but three other women.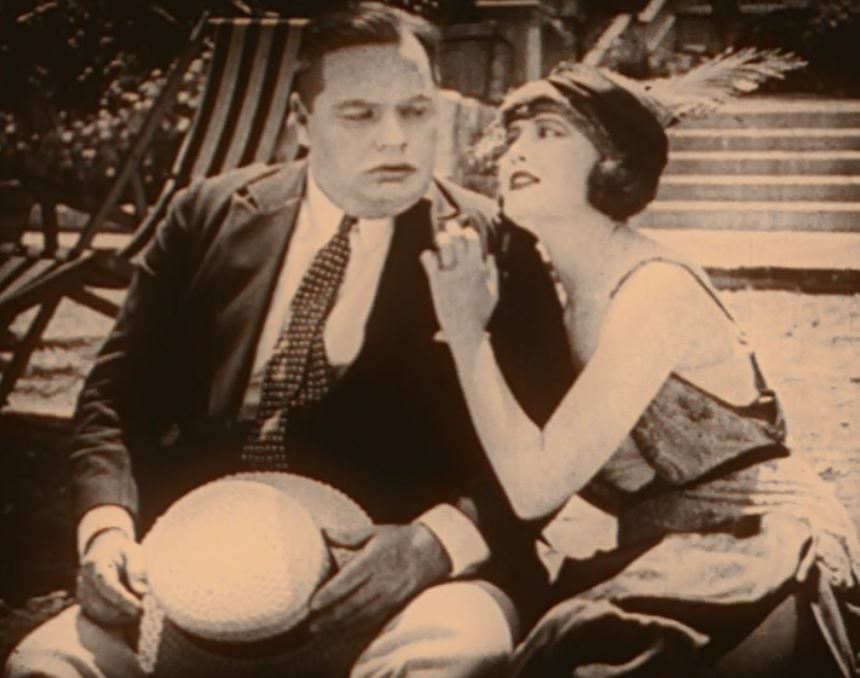 Through a series of misunderstandings, all three of them believe that bashful Roscoe intends matrimony, and all respond aggressively in kind. Arbuckle enters into this cheerful nonsense with élan, but also invests his character with quirks that make for engaging visual comedy. Whenever excited, he's afflicted with a stutter (conveyed in dialogue titles), accompanied by a stiff-legged little jumping action, and curable only by a drink of water. At one point he tries to discourage his marriage-minded admirers by feigning a disposition to "fits," which take the form of elaborate acrobatic tumbles and falls, one of Arbuckle's physical-comedy specialties.
            Thus tailored to his distinctive talents, and enhanced by other qualities—not least Lucien Littlefield's performance as the eccentric, misogynist uncle—Leap Year is charming, lightweight fun. It takes on a darker aspect only in hindsight. Produced in the spring of 1921, it was one of several films that were still unreleased in September, when Arbuckle was embroiled in a notorious incident that resulted in the death of a young starlet. He himself was ultimately cleared of any wrongdoing, but during 1921–22 he was the target of a vicious smear campaign in the press. The resulting scandal effectively destroyed his career. The still-unreleased features were distributed in Europe, but Paramount never did release them in the United States, and over the years they were scattered and forgotten. Reportedly, all currently available prints of Leap Year are descendants of a single 16mm copy that survived in the legendary collection of William K. Everson. Thanks to his foresight, we are doubly fortunate to be able to see this rare gem for ourselves.