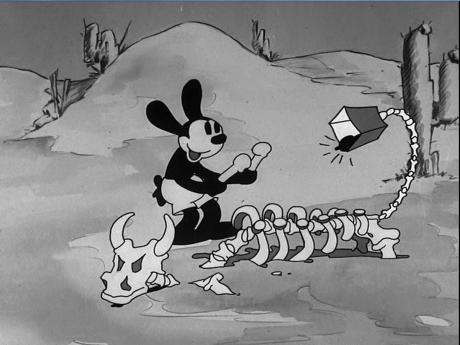 Lantz/Universal, 1930. Director: Walter Lantz. Animation: Bill Nolan, Ray Abrams, Manuel Moreno, Clyde Geronimi. Music: James Dietrich.
 
            One of the things I love about Disney history is that there are so many facets to it. There are any number of main highways you can follow, and every one of them leads to numerous side roads. I've always had a special place in my heart for Oswald the Lucky Rabbit, the character who starred in a series of silent Walt Disney cartoons in 1927-28. Thankfully, those cartoons have been receiving increased attention in recent years. But of course Oswald's screen life didn't end when Walt lost the rights to the character in 1928. For the next ten years, Oswald continued to appear in further cartoons, most of them produced by another Walt: Walter Lantz (best remembered today as the creator of Woody Woodpecker and Andy Panda).
            Thanks to the efforts of Jerry Beck, animation historian/ consultant/curator extraordinaire, a generous helping of those Lantz Oswalds has been made available on home video recently. For some viewers, seeing these cartoons at last is a perplexing experience. It's hard to describe some of them as "funny"; "bizarre" seems a more appropriate word. Hell's Heels, released in June 1930—and now available as a bonus extra on this Woody Woodpecker DVD collection—is an extreme case in point. To the viewer who watches it with no awareness of its historical context, Hell's Heels must seem utterly incomprehensible. When we view it in context—well, it's still pretty strange. But it does make a little more sense that way, and more importantly, it provides a fascinating link between two distinct branches of film history.
            The key to understanding Hell's Heels is in the source of its story (if that's the word). Lantz had become the house animation producer for Universal Pictures, which owned the Oswald series, in 1929. In concocting story material for his cartoons, he needed look no further than Universal itself; some of his 1929-30 cartoons are simply burlesques of current or recent Universal features. In the case of Hell's Heels, Lantz drew his inspiration from a recent Western that was, itself, part of a unique cinematic tradition: movies based on the story Three Godfathers.
            Peter B. Kyne's original story, The Three Godfathers, had been published in short form in 1912 and as a novel the following year. If nothing else, today's film enthusiast is familiar with the 1949 movie version, directed by John Ford and starring John Wayne, Harry Carey Jr., and Ward Bond. In fact, however, the 1949 version was only the latest of at least five film versions of Three Godfathers that had been produced over the years. ("At least" because some observers may want to include a sixth entry, D.W. Griffith's The Sheriff's Baby, an unofficial adaptation released by Biograph in 1913, shortly after publication of Kyne's story.) Several of those films are linked by a web of connections; one of them, the silent Marked Men (1919), was also directed by Ford and starred Harry Carey Sr.—who had also appeared in the 1913 Griffith film!
            Each one of these film adaptations had its own individual quirks, but all told more or less the same story: three outlaws rob a bank in a small Western town and ride away into the desert, where they expect to make their escape. Instead, after a series of mishaps they find themselves stranded in the desert with no horses and practically no water, and one of them seriously wounded to boot. To complicate matters further, they meet a pioneer woman who has just given birth to a baby, and agree to her dying request by becoming the baby's godfathers. As they set out to transport the baby through the desert to safety, the story becomes a journey of redemption, given added resonance by a haunting association with the original Christmas story.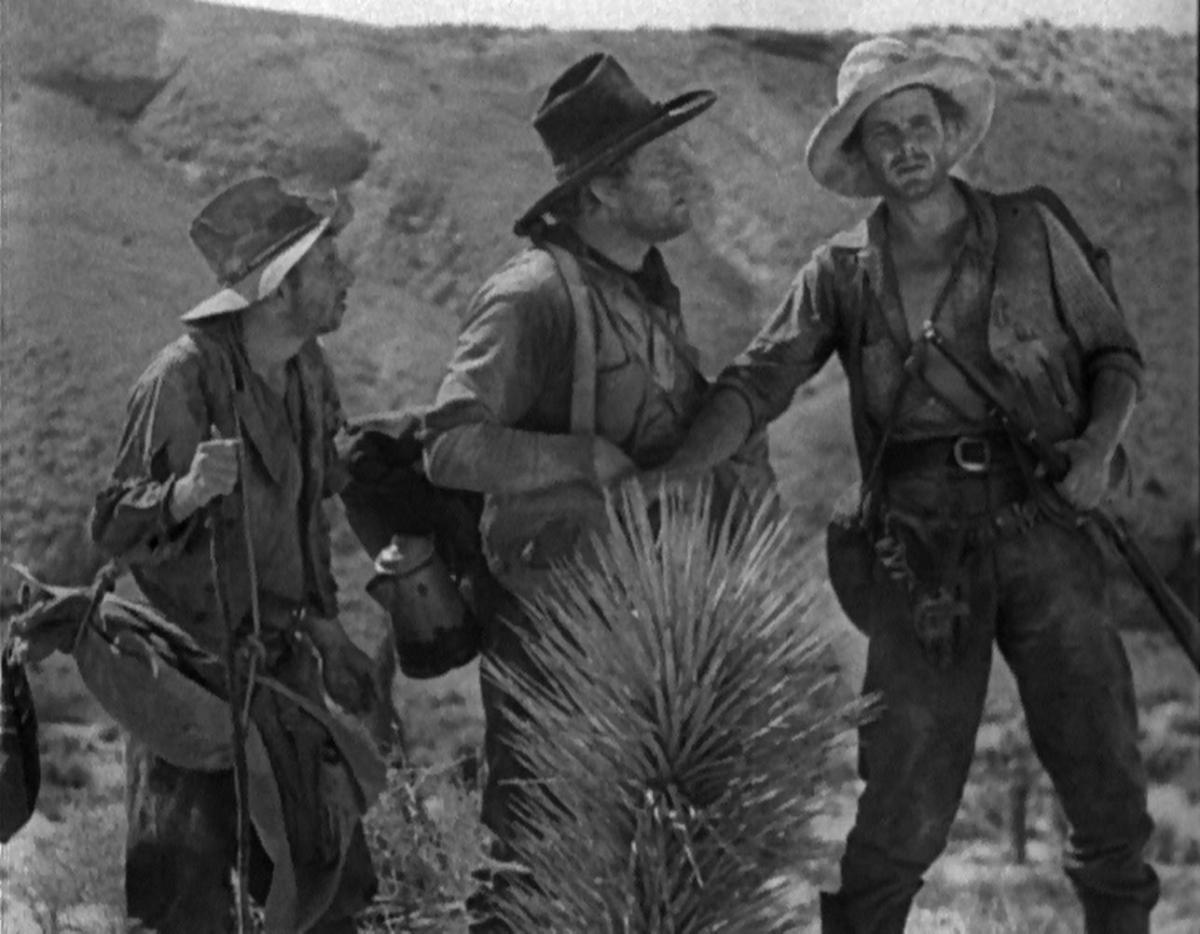 In 1930 the most current film version of this tale was Hell's Heroes, released by Universal the previous December in both silent and sound versions. (More recently, the silent version was given a memorable presentation in 1994 at Le Giornate del Cinema Muto; the sound version is now available on DVD from the Warner Archive.) Hell's Heroes was directed by a young William Wyler, and featured Charles Bickford, Raymond Hatton, and Fred Kohler as the three bad men. In 1930, then, when moviegoers watched Lantz's cartoon, many of them had already seen Hell's Heroes or at least were aware of it. The cartoon was designed to play off that element of familiarity. And when we watch it with this background in mind, some of its bizarre gags—the baby in the desert trying to milk the skeletal cow, the "Wanted" notices that pop up out of nowhere, the byplay with the poisoned waterhole—become a little more explicable.
            Of course there's other content that has nothing to do with Three Godfathers—notably the frequent pauses for impromptu musical performances, a staple of all producers' cartoons at this time as they scrambled to catch up with the popularity of the Disney sound cartoons. (In fact, Oswald's xylophone solo on another bleached skeleton unmistakably suggests a musical turn in Disney's The Skeleton Dance, released the previous year.) Animation buffs will note that Bill Nolan, then one of the top animators in the business—whom Walt Disney had tried to recruit when he was producing Oswald the Rabbit—is prominently featured in the credits. Clyde "Gerry" Geronimi, also credited as an animator on Hell's Heels, did go on to the Disney studio shortly afterward and enjoyed a long career there, first as an animator and later as a director. Another future Disney luminary, Pinto Colvig, is not mentioned in the credits, but he was at the Lantz studio at the time, and his voice—later famous as the distinctive voice of Goofy—can be heard briefly in this cartoon, speaking for a musical walrus (!).
            Allowing for variations of style between different artists, Oswald in this picture has about the same appearance that he had when last sighted at the Disney studio in 1928. Pegleg Pete, too, puts in a short appearance as one of the bad men; and it's interesting to note that he still looks roughly the same as he had in the Disney Oswalds, despite the fact that the Disney studio had in the meantime evolved a very different Pete as a menace to Mickey Mouse! On a technical level, perhaps the most impressive animation in Hell's Heels is not character animation, but a moving background. This is a cycle simulating a dolly shot, as if the camera were tracking with the characters through the desert. The faraway hills are nicely shaded, to suggest distance and perspective, on each drawing as they move away from the camera—or toward the camera when the action reverses, as Lantz, clearly taking pride in this device, reuses it five times!