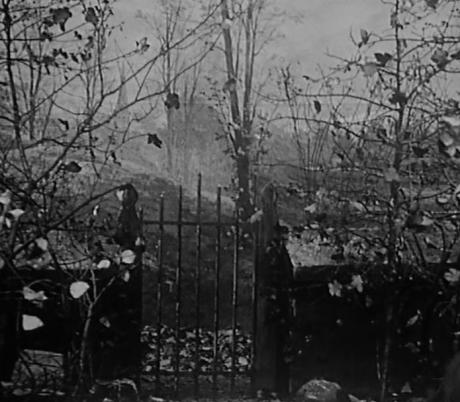 Solax, 1912. Director: Alice Guy Blaché. Cast: Mace Greenleaf, Magda Foy, Marion Swayne, Blanche Cornwall, Darwin Karr.
 
            Last month, in this department, I highlighted a film directed by Lois Weber, one of the best-remembered female directors of the silent era. Since March is Women's History Month, it seems appropriate to single out another leading contender for that distinction: Alice Guy Blaché. One of the earliest film directors of either gender, Guy Blaché was also one of the most prolific, producing or directing nearly one thousand films—many of them one-reelers like Falling Leaves—in the course of her career. Alice Guy began her film career in the 1890s at the Gaumont studio in her native France, and soon was not only directing films but overseeing all production at Gaumont. After marrying Herbert Blaché in 1907 and moving to the United States, she established the Solax studio in 1910 and resumed her prodigious output of films.
            The sheer volume of her production during those years makes the meager survival rate of Guy Blaché's films doubly scandalous. Of her hundreds of Solax films, comprising a sweeping variety of comedies, melodramas, and intimate dramas, only a tiny fraction are known to survive today. Falling Leaves is one of the intimate dramas. A tender, muted little mood piece, it may be easily overlooked at first glance—but, like so many other films, it becomes more fascinating on its own terms the more closely we look.
            It's been suggested that Falling Leaves was inspired by the O. Henry story "The Last Leaf," published a few years earlier. If so, the story must have afforded only the loosest sort of thematic inspiration; the setting, characters, and plot of the film are utterly unlike those of the story. Here Marion Swayne appears as a young lady suffering from "consumption," a contemporary term for tuberculosis. The story turns on Marion's younger sister, played by child actress Magda Foy, a regular member of the studio's stock company who was billed as "The Solax Kid." Having overheard the doctor's pronouncement that Marion will be dead by the time the last leaf of autumn falls, little Magda is inspired to go outside, pick up the fallen leaves, and tie them back to the branches of trees in an effort to save her sister's life.
            By 1912, when this film was produced, D.W. Griffith had been directing films at the Biograph company for four years and had profoundly transformed the face of all American filmmaking. The vast majority of films were still confined in length to one reel or less, a form that was conducive to vest-pocket dramas like this one—more suggestive of one-act plays than of the feature-length films that would soon become the standard. Because of the compressed running time of these pictures, the viewer must accept certain conventions, including a reliance on unlikely coincidences. Here, little Magda's leaf-tying mission happens to catch the attention of a passing doctor who has developed a cure for consumption—and who is, moreover, instantly attracted to Marion, an attraction which is reciprocated. By reel's end, little Magda has cleared the way for a cure and a budding romance.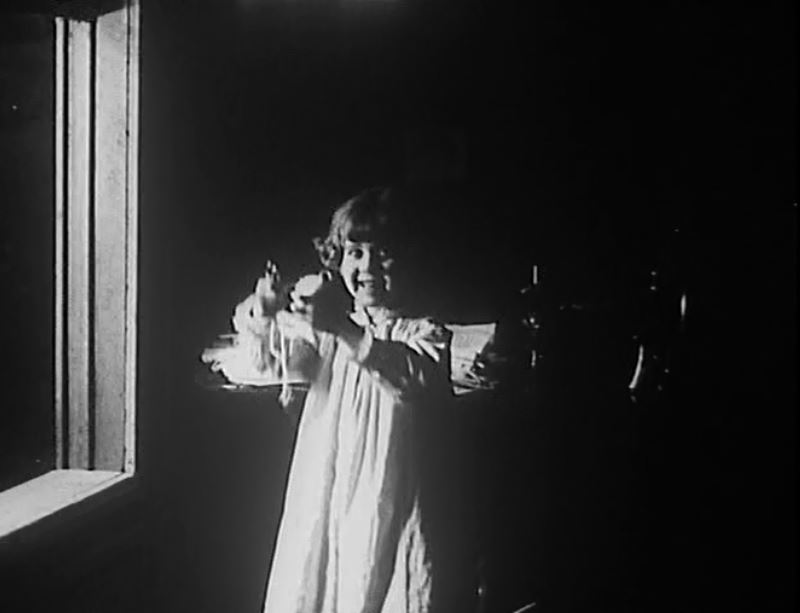 But if we accept the limitations of one-reel dramas, we're rewarded with their unique pleasures. And a film like Falling Leaves has many of those to offer. Guy Blaché proves herself a director of subtlety and taste, eliciting restrained performances from her cast—a sign on her studio wall reportedly read "BE NATURAL"—although, like other directors, she retains the stage convention of spoken soliloquies directed to the audience (but of course unheard in a silent film). Griffith, in some of his contemporary films, indulged in bravura displays of editing and camera technique. In this film Guy Blaché pursues a more tranquil course, achieving her effects via understated performances by her cast. There's only one closeup in the film, reserved for little Magda Foy as she conceives her plan to save her sister. There's also a reliance on pictorial effects, including a striking moonlight effect in the aforementioned closeup, and a lovely studio-constructed "exterior" of the family garden as the leaves drop from the trees.
            We owe the preservation of this film, and so many others, to the joint efforts of the Library of Congress and the National Film Preservation Foundation. One hopes that the future work of these and other members of the film-preservation community will unearth more of Alice Guy Blaché's productions. For the time being, however, we can be grateful for the titles that do presently survive—and Falling Leaves is a charming and worthy example.