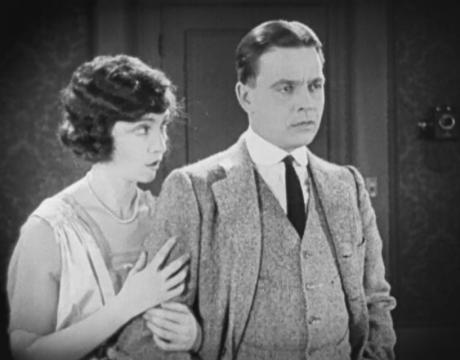 Ince/Associated First National, 1923. Director: William Seiter. Scenario: Violet Clark, based on a story by Austin Gill. Camera: Bert Cann. Cast: Douglas MacLean, Margaret Loomis, John Steppling, Jean Walsh, Eugene Burr, William Courtright, Emily Gerdes.
 
            Like many other film devotees, I first discovered film history by way of the great comedians of the silent era. I cut my teeth on the works of Chaplin, Keaton, Lloyd, and Langdon—four towering talents long since recognized as a sort of official Mount Rushmore of silent comedy. (In this I was influenced, as I suspect generations of fellow enthusiasts were, by James Agee's landmark essay "Comedy's Greatest Era.") It was a life-changing experience; any viewer who has sampled that rich collective body of work can vouch for the incomparable power of silent comedy at its best, and the silent cinema in general. And it's a discovery that comes with a built-in bonus: once we've become familiar with the Big Four, we're ready to encounter the many other comedians who also enlivened the silent screen. A generation of performers, many of them brilliant in their own right but not nearly as well remembered as Keaton or Lloyd, are awaiting rediscovery. In many cases they've been forgotten only because their films are unavailable—lost to the ravages of time or, if we're lucky, simply in need of restoration.
            One of those "hidden" talents, known as a name in history books but rarely seen by modern audiences, is Douglas MacLean. It's a great pleasure to report that silent film accompanist/showman Ben Model has taken a giant step toward ending MacLean's undeserved obscurity. Through his Undercrank Productions, Model has issued a DVD showcasing two of the comedy features in which MacLean starred for producer Thomas Ince during the 1920s, now preserved by the Library of Congress. Both films, emerging from their decades of neglect, turn out to be fresh, lively, and hugely enjoyable, and I suspect that the first one, One a Minute—presented in a razor-sharp, sparkling transfer from a 35mm nitrate negative—is likely to grab the lion's share of the attention.
            I'm focusing instead on the second title, Bell Boy Thirteen. MacLean's films fall in the category of light comedy, with MacLean himself as a clean-cut young "normal" American character—no baggy pants, no outlandish makeup or costuming. Breezy, cheerful, and fast-paced, his films place this pleasant young man in some minor predicament and then depict his efforts to extricate himself from his problem. Mild slapstick action is not out of the question, but the accent is on clever, imaginative sight gags.
            Bell Boy Thirteen is a delightful example (particularly delightful in its Undercrank presentation, thanks to Ben Model's charming accompaniment, as well as digital video restoration by Thad Komorowski and grading by Greg Kimble). The plot situation here is a familiar one: MacLean is in love with an actress and wants to marry her, but his rich uncle, who has never met the actress, is vehemently opposed to the union and threatens to cut off his heedless heir without a cent. This somehow prompts MacLean to go to work as a hotel bellhop in a neighboring city. That's all there is to the plot, but it takes the form of a spirited romp through a series of ludicrous comedy situations. The director is William A. Seiter, a versatile craftsman who turned out exceptional films, in a variety of genres, over a period of several decades but is relatively underappreciated today. (Among his many other credits, it's worth noting that Seiter directed Sons of the Desert—by common consent the best of Laurel & Hardy's feature-length comedies—ten years after Bell Boy Thirteen.)
            Seiter's warm, understated style is on display in this film, and repeat viewings may be in order to savor all the subtle touches inserted into the proceedings. In one scene, as MacLean hastily departs his home town in pursuit of his lady love, he tangles with the local fire department and emerges with a fireman's helmet jammed firmly on his head—then forgets he's wearing it. He arrives in the next city, impeccably attired and sporting a fireman's helmet, and walks around wondering why everyone is staring at him. A later scene, better seen than described, follows MacLean's adventures at the hotel, underpinned by a running gag involving a pitcher of ice water. One character, preoccupied with business at hand, absent-mindedly hands the pitcher to another character—who, likewise focused on something else, continues to carry the pitcher around, only dimly aware he's holding it.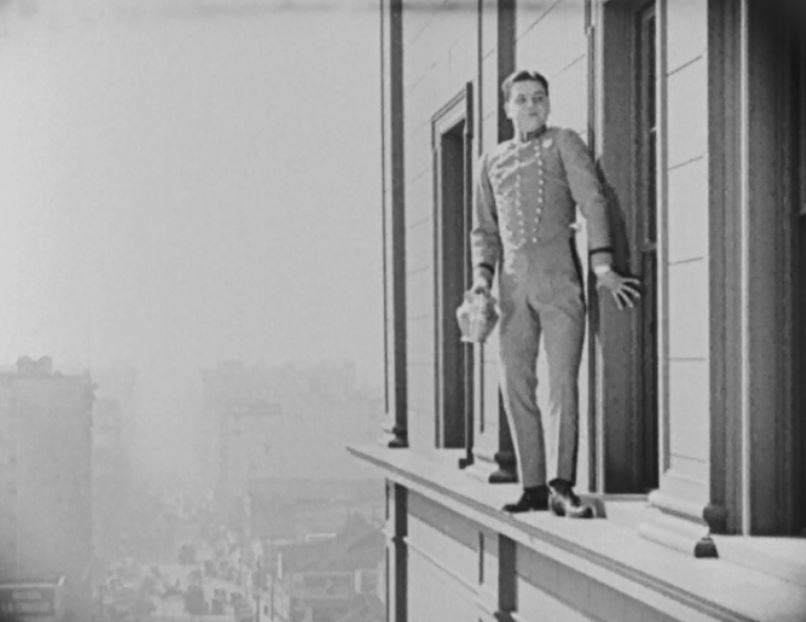 The pitcher changes hands four times in the course of an extended sequence of comedy action. It's never stressed, simply an oddly droll undercurrent to the narrative, and it's resolved by a beautifully underplayed wrapup gag at the end of the sequence.
            Bell Boy Thirteen packs this and much more into a tight five reels. For good measure, there's a vintage silent-screen car chase, and a brief thrill-comedy episode on the side of a tall building, filmed in one of the same locations that Harold Lloyd would use shortly afterward in Safety Last. Historian John Bengtson has written an excellent essay documenting the locations in both of the MacLean features on this disc. Many visitors to my website will already be familiar with Bengtson and the quality of his work, and this essay is highly recommended. As is The Douglas MacLean Collection itself. It's a refreshing reminder that, no matter how deeply we delve into the silent era, there are still more happy discoveries to be made.